1. The Swatara Creek
Swatara Creek, which flows through Swatara State Park, is a still body of water ideal for canoeing and kayaking. This route is ideal for novice kayakers since it is mostly flat with a few class I and II rapids to give some excitement and training for first-timers on whitewater. It also allows you to take in the beauty of your surroundings. Lebanon is just 14 miles north of the state park. The picturesque stream winds its way through the park, surrounded by woodlands and marshlands that are home to a variety of species. The Swatara Valley state park is made up of forests and undulating farmland in the midst of the Blue and Second mountains. Though the park is open every day of the year from dawn to sunset, many parts are only available during certain hours and seasons.
2. Schuylkill River
Because the 128-mile river is a State and National Heritage Area, you may see a variety of sites along the route, including historical and cultural landmarks as well as animals. The river water route is a paddler's paradise, but locals enjoy a variety of water sports activities as well. With its shallow and stony environment, the river bottom is extremely difficult. Paddlers must verify the water conditions before heading out, and they must follow the laws when kayaking near dams. The river begins in Tuscarora and runs through a variety of scenery and significant American historical monuments before joining the Delaware River in Philadelphia.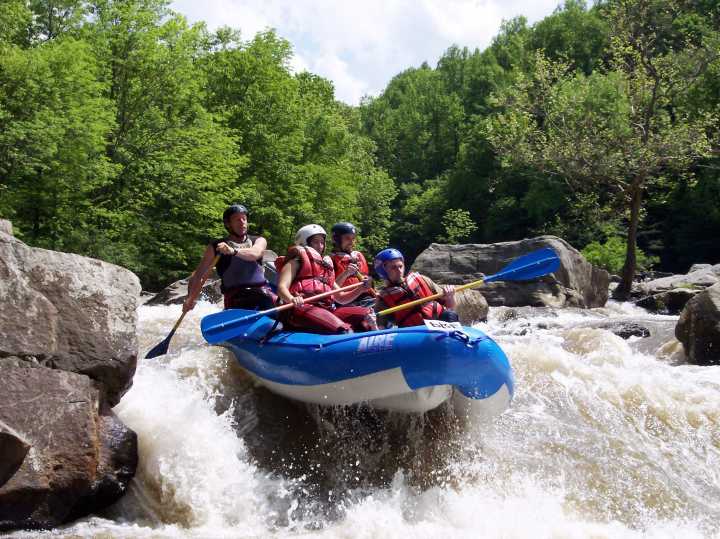 3. Youghiogheny River
The Youghiogheny River flows through the state park of Ohiopyle, which is one of the major state parks in southwestern Pennsylvania. The "Loop" is one of the greatest sections of this river. It's Pennsylvania's most well-known whitewater course, and it's supplied by a reservoir farther upstream, so most of the time the water level is stable. The loop is ideal for canoers since they do not require a transport vehicle. The river provides the greatest river water rafting since each portion of the river appeals to a different level of experience. However, we'd mainly recommend this spot for beginner to intermediate paddlers.
4. Three Rivers Water Trail
The Three Rivers Water Trail in Pittsburgh is a popular paddling spot for urban canoers or those who live near the city. There are many launch locations and parking spaces to choose from and many friendly outdoor enthusiasts that can help and guide you. Each landing features canoe racks and ramps, as well as signs that offer directions for both land and water. There are various paths to select from on the water trail, which pass past ancient bridges, tiny villages, man-made systems, and other sights. It's one of the best urban paddling spots the state has to offer and a spot you must visit if you're close to the city.
5. Lehigh River Water Trail
In northern Pennsylvania, the Lehigh Waterway Water Trail is a 72-mile-long river. It is one of the greatest sites in the state to go whitewater rafting and is home to a varied range of animals and vegetation. These calm to mild rapids are ideal for a family float excursion or putting your paddling abilities to the test on intermediate waters. If you're looking for a bit more excitement, visit the rapids on dam release days, when the currents and water levels are higher.