Top 5 ski resorts in Oregon
Willamette Pass Ski Resort
Receiving nearly 36 feet of white gold, Willamette Pass Ski Resort has 555 acres of skiable terrain. The terrain is split into two areas: the Southface and the Northface. The sun has no impact on the Northface side of the resort because the mountain retains a lot of snow. With its 29 named trails and the 1,563 feet of vertical that are serviced by a modern lift system, Willamette Pass Ski Resort has the steepest run in Oregon named "R.T.S". There is also a terrain park with jibs and boxers.
Mount Ashland Ski Resort
Located at a high elevation of 6,383 feet, the resort receives a huge amount of snow each season. If you are a beginner, Mount Ashland Ski Resort is one of the best places in the region for you to learn how to ski. The area where beginners learn how to ski is separate from the rest of the resort. The resort also has five lifts and 44 named runs. The runs in the bowl area are best known in the mountains. The resort has no accommodation opportunities and restaurants.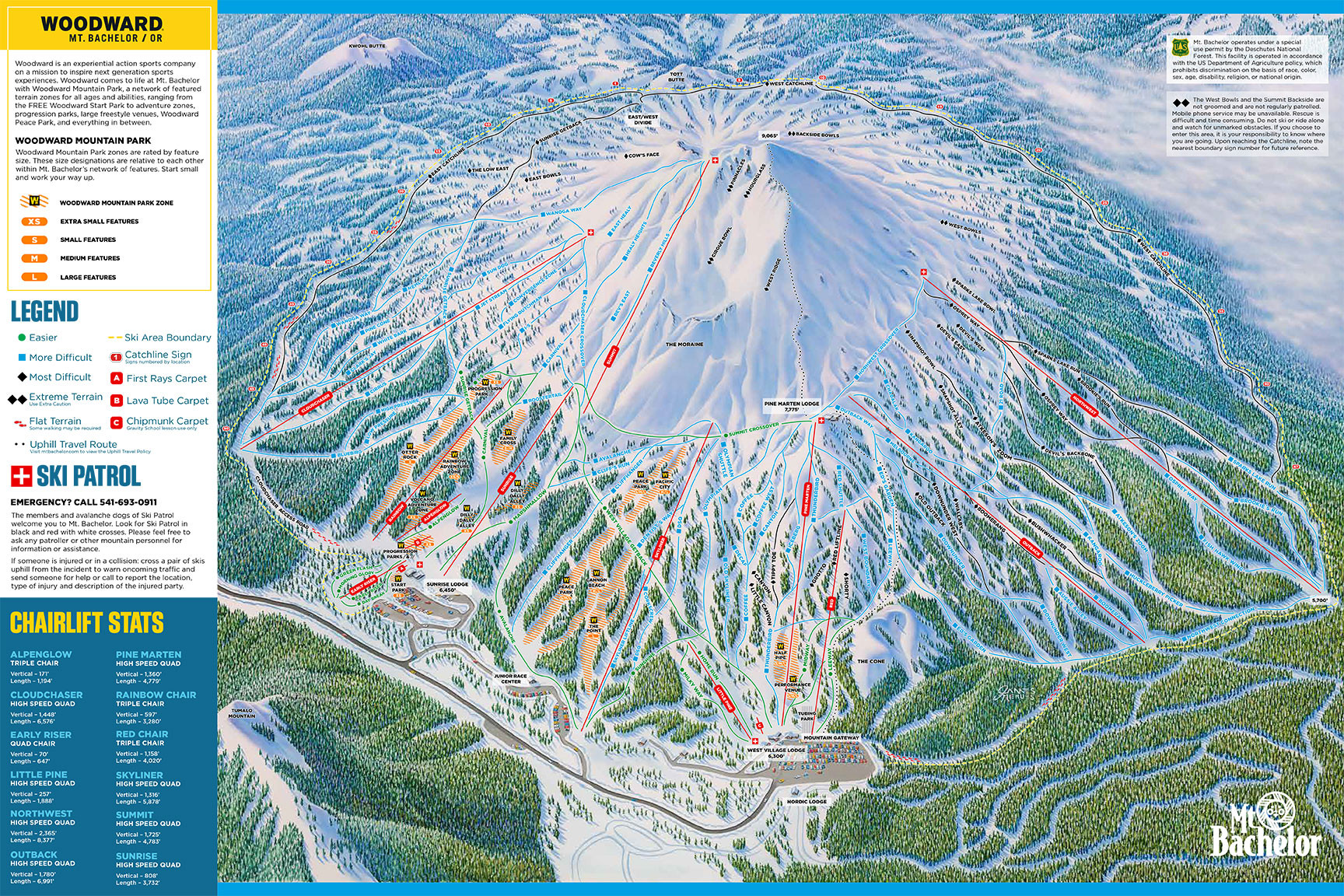 Mount Bachelor Ski Resort
With its incredible height of 9,068 feet, Mount Bachelor is a dormant volcano and the biggest ski resort in Oregon. The resort is rather crowded since it gets a lot of skiers across the United States. The mountain has 4,323 skiable acres and is the 6th largest ski resort in North America. With its high-speed quads, the mountain has 12 lifts. There are also 12 specific areas on the mountain. Last of all, if you are looking for cross-country skiing, the mountain is famous for its cross-country skiing. Accommodation opportunities are not available in the ski resort but you can stay in the Sunriver that is located near the resort.
Timberline Lodge and Ski Resort
With its nine lifts, including five high-speed quad chairs that service 41 named runs, Timberline lodge offers the best ski experience for both beginners and advanced skiers. The resort receives a large amount of snow annually, which makes it open all year. There are also a lot of newest and innovative terrain parks in the resort. Additionally, staying at Timberline Lodge is one of the best pleasures of skiing here! If you want to have dinner after skiing and chill out in your room with a wood burning fireplace, Timberline is for you!

Mount Hood Meadows Ski Resort
With a wide variety of terrain ranging from beginner runs to the steepest ones, Mount Hood Meadow is the largest of the resorts situated in Mount Hood. The resort receives a large amount of snow each year and accumulates 35 feet of snow a season. The resort has 11 lifts, six of which are for advanced skiers and experts. Mount Hood Meadows is also known for its spring skiing. There are 4 terrain parks in the resort and Shipyard, Fireweed and the superpipe are lit up for night riding!