Top 5 ski resorts in Utah
Sundance Mountain Resort
With its simple, charming wooden cabins, Sundance Mountain Resort offers a beautiful scenery and atmosphere for those that want an incredible ski experience. The ski hill in the resort is sufficient for experts and the standards are rather quaint. With 450 acres and 42 runs, the resort includes several activity areas: night skiing, a winter zip line, one terrain park, restaurants and other first-class amenities. If you are an adrenaline junkie, Sundance is exactly the place you are looking for!
Brian Head Resort
If you are looking for a family-friendly ski resort, here is the Brian Head Resort! The resort is designed to meet the needs of families. If you just simply want to enjoy the snow and the landscape with your family, the hill is perfect with its 9,600 feet, which makes it the highest ski hill in Utah. The resort area has 650 acres of skiable terrain approximately. There are also a lot of restaurants for casual dining and places for accommodation.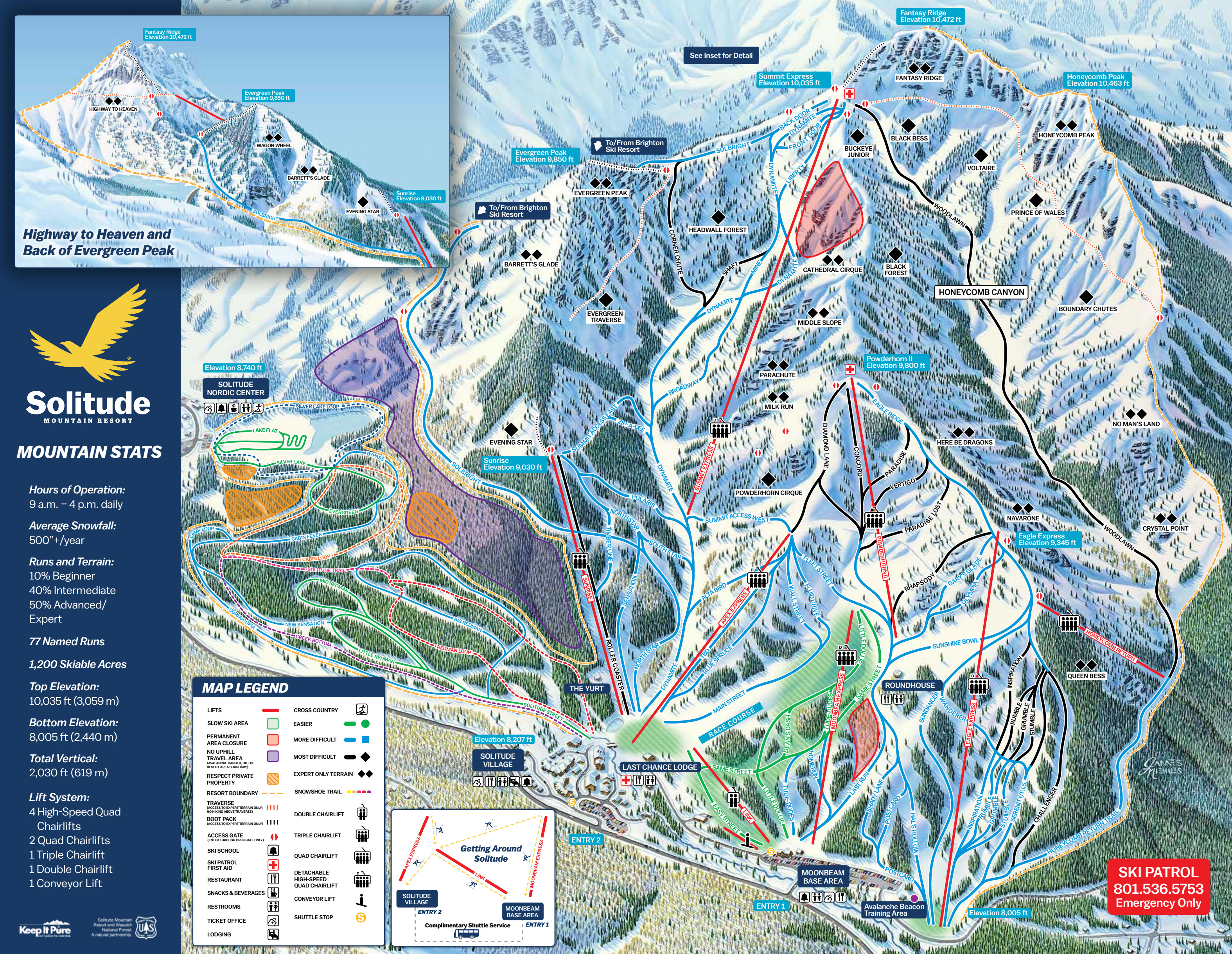 Solitude Mountain Resort
Solitude Mountain Resort is generally used by local people that live near in the area. As its name implies, it is a hushed and tranquil place with 80 runs. The resort, along with the restaurants and accommodation opportunities, is suitable for families that are looking for powder and tree skiing. The area is near the end of Big Cottonwood Valley, which is one of the most well-known valleys in the area. There are various ski areas in the resort that are suitable for both beginners and experts. In a nutshell, the resort is a great place to ski and get away from the crowds.
Powder Mountain Resort
Situated an hour north of Salt Lake City, Powder Mountain, along with a run of skiing options, is a great place for skiers. With the expansion of two modern lifts in 2017, Powder Mountain became the biggest ski resort in North America in terms of skiable landscape, with 8,464 acres approximately. Powder Mountain is famous for its natural landscape and snow, which makes it unique for the skiers. If you want to go there, you will be offered 154 runs, which gives you a range of options. The resort also offers a free Mountain trip service for the newcomers. When it comes to snowboarders, two terrain parks and several alternatives wait for you! Lastly, the resort has accommodation and restaurant opportunities.
Alta Ski Resort
With its six main lifts accessing more than 2,000 skiable acres, Alta Ski Resort is a special place for skiers. The resort is near Little Cottonwood Valley and captures more than 450 inches. Besides, there are several restaurants at Alta that are rather comfortable and suitable to rest. With lux and massive rooms and adjoining rooms, the resort is in the hearts of families. There are also beneficial ski schools for children who are interested in skiing.