Top 5 Kayaking Spots In Miami
Crandon State
Crandon Park in Miami is an excellent area to go kayaking or canoeing. It is one of the best beaches in the world, with world-class attractions such as a marina, golf course, tennis center, picnic shelters, a family entertainment center, and a nature center.
Crandon will always provide you with a memorable water sporting experience, whether you go on a trip through the mangroves or explore beneath the Rickenbacker Causeway. The Bear Cut Preserve, a certified natural Environment Study Area, is part of the park, however guided tours of the preserve are offered.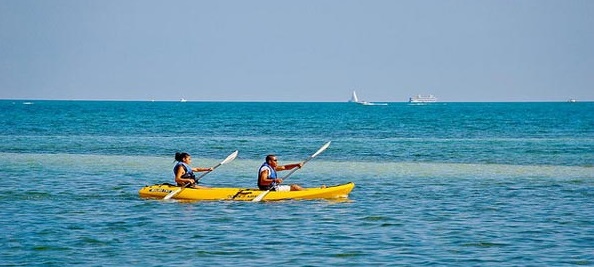 Black Point Marina
Black Point Marina is a fantastic site to start your kayak adventure, with beautiful natural trails and tranquil water. Black Point Marina is a popular daytime attraction that attracts outdoor enthusiasts all year.
The waters surrounding Black Point Marina are excellent for paddlers of all abilities, and all routes are short. Black Point Marina is a quiet, private, and scenic place to paddle for those looking to get away from the hustle and bustle of city life.
Oleta River State Park
At Oleta River State Park, Florida's largest urban park, paddle along mangrove pathways and out into the calm waters of North Biscayne Bay. Several species of water birds, as well as manatees and other fascinating aquatic life, can be found in the vicinity. The BG Oleta River Outdoor Center rents kayaks for one hour to a whole day. The North Miami kayaking center organizes a Full Moon Kayak Tour once a month, where you may paddle out into the calm sea with only a glow stick to guide you.
Virginia Key Outdoor Center
One of Miami's best-kept secrets is the Virginia Key Outdoor Center, which is situated on a tranquil lagoon in the heart of the city. The center rents kayaking and SUP equipment and offers lessons, excursions, and private events throughout the year. During the winter, manatee herds can be seen swimming alongside you. In the summer, an evening kayak allows you to admire the stars in the sky as well as the bioluminescent animals in the water. Enjoy a 360-degree fireworks display on the beach on New Year's Eve!
The Deering Estate
The Deering Estate is a prominent environmental destination that retains Charles Deering's Miami estate from the 1920s, when he was the first head of the International Harvester Company. Early morning canoeing in Miami allows you to see regional marine organisms such as sea turtles and manatees.
On Chicken Key, the estate also offers moonlight canoe excursions with campfires and s'mores. Paddle Miami at Deering Point rents kayaks, paddleboards, and even camping gear.