Top 5 Kayaking Spots in Colorado
There are many outdoor adventures in Colorado, from the Rocky Mountains to river canyons and desert areas. Centennial State's varied terrain offers kayakers of all skill levels a great paddling experience. Lakes and rivers throughout the state, as well as national and state parks, have trails that range from gentle, easy paddling to rigorous whitewater. The options in the Rocky Mountains are nearly endless, and you can even kayak the plains of the Front Range.
1- Colorado River
Kayaking in the Colorado River, whether in the Upper Colorado River in Colorado or the Lower Colorado River further southwest, is a lot of fun. When compared to the Arkansas, the western Colorado river is a little different. There are plenty more calm areas to kayak through. The Colorado River State Park contains many areas, providing many chances for camping, picnics, and playing in the park.
2- Sylvan Lake
Sylvan Lake is easy to reach from I-70 and is around 30 minutes from Eagle, CO. The White River National Forest covers the 42-acre lake, offering kayakers a feeling of serenity. Only non-motorized boats and boats with trolling motors are allowed, guaranteeing that paddlers face minimum wake.
3- Bear Creek Lake
You'll be able to get out on the lake at any time thanks to the reservoir's Lakewood location. Bear Creek Lake Park has three lakes: Bear Creek Lake is open to motorized boats, Big Soda Lake is only open to non-motorized boats, and Little Soda Lake is only open to classes. The sceneries in beautiful font range surround you, so this is a lovely location to spend a pleasurable afternoon.
You can take your lunch and choose a calm spot near the reservoir to eat it while admiring the sights. Because this is a designed park with easy access to the reservoir, you should have no difficulties while going out on the water.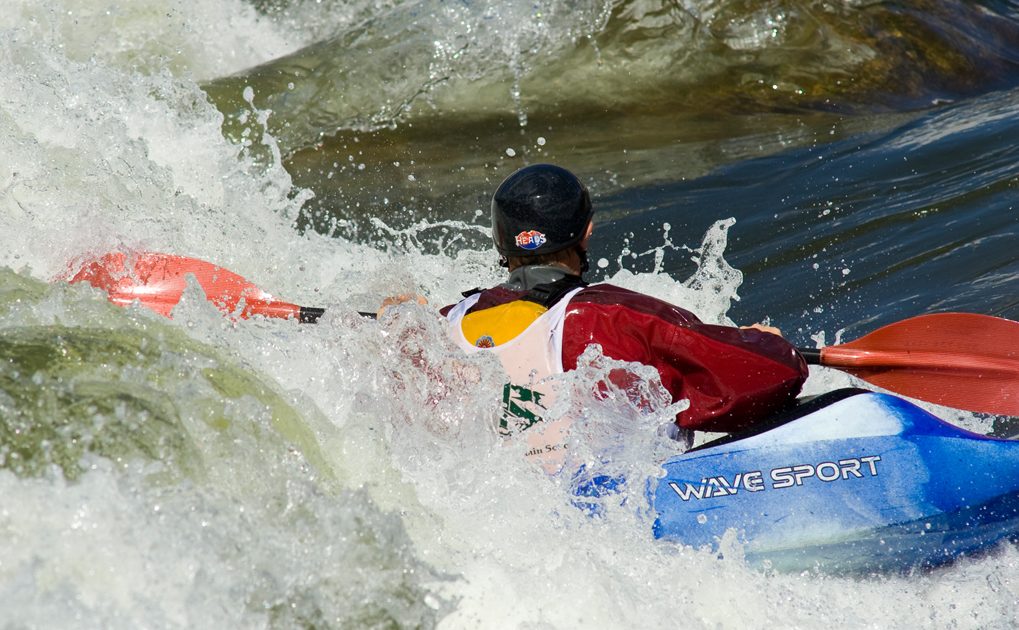 4- Glenwood Springs Whitewater Park
Due to its numerous activities, Glenwood Springs, Colorado was named the Most Fun Town in America in 2011. The Whitewater Park contains a G-wave (standing wave) and it is also the first whitewater route built on any stretch of the Colorado River. The area is one of the most wonderful attractions that contributes to its popularity.
5- Grand Lake
Grand Lake is incomparable when we think of its spaciousness and breathtaking panoramic views of the Rockies. The lake is Colorado's largest and deepest body of water, and it is located near Rocky Mountain National Park. We highly recommend you take a kayak run during the early hours of the morning to take advantage of the sparkling waters.