Top 5 places to go rafting in Wisconsin
Vermillion River
Running south to north and starting at the border of Ford and Livingston counties northeast of Bloomington, Vermillion River is one of the largest rivers to raft in Wisconsin. If you are looking for flatwater paddling around Wisconsin, Vermillion River is what you are looking for! Starting on May 1 and going until July, Vermillion River provides you with an incredible rafting experience. If you are a beginner, you can go to the river and choose a section of the river that is suitable for your level. Advanced skiers may also go to Vermillion to get an adventurous rafting experience.
Wolf River
With its rapids ranging from Class 2 and 3, Advanced rafters are really fond of Wolf River! The river is best for advanced rafters and experts who can swim, as the rapids are really harsh for beginners. If you do need raft rentals and such stuff as life preservers and helmets, you can buy them from Shotgun Eddy. The river is also preferred for weekend trips, which means that you can come here with your family in order to experience the natural habitat of the place.
Peshtigo River
If you do want to experience one of the most excitingClassIII-IV rapids, Peshtigo River is here for you! Depending on the water levels, you can choose one-person or eight-person rafts. If you would like to have a raft with a guide, an eight-person raft is also available in the river. The reservation opportunities and trips are also available in the river. Beginners and non-experienced rafters are not recommended to raft in Peshtigo River. If you are an advanced rafter with an adventurous soul, you should come to visit the river and experience the exciting rapids of Peshtigo!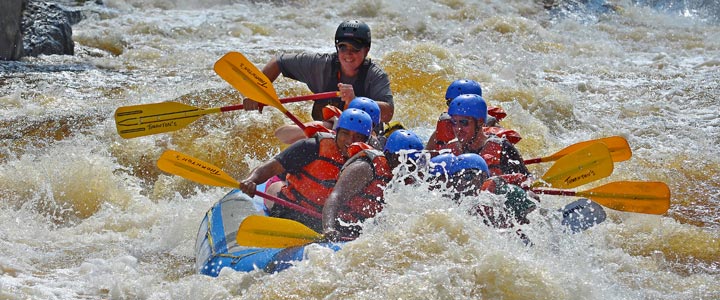 Thorton's Whitewater Rafting Resort
If you are looking for trips with Class II to IV, Thorton's offers you one of the most amazing whitewater rafting experiences. The resort is also suitable for free swimming, fishing and boating. So you can take your family or friends and go there for fishing. Some parts of the river are also well-suited for beginners so that they can make some practices and improve their rafting skills. The cost of Thorton's $41-$47 dollars per person. Although it should be noted that the prices are subject to change.
Kosir's Rapid Rafts
Kosir is one of the first whitewater outfitters in Wisconsin and has offered guided trips on the Menomonee River since 1975. If you are looking for a weekend camping trip with a whitewater experience, Kosir is a sensible option for you. The spring trip to Kosir begins in April and May. The cost of it is $50 per person. However, if you go there in the summer, the cost drops to $30 per person for the same trip. It's suggested that you double-check the prices before going.