Top 5 places to go rafting in Tennessee
Upper Pigeon River
Including 1 1/2 hours on the water and navigating through class III and IV rapids on the upper Pigeon River, Pigeon River offers you one of the most exciting rafting experiences. If you want to go there with your friends, don't forget that there is a maximum of seven people per raft. Moreover, if you go there in the summer, you will have to pay $44 per person. Trips are also available from March through September. While reserving, you can secure your spot and stay flexible. Free cancellation opportunities are also available. If you have no experience, full instruction and all equipment are provided too.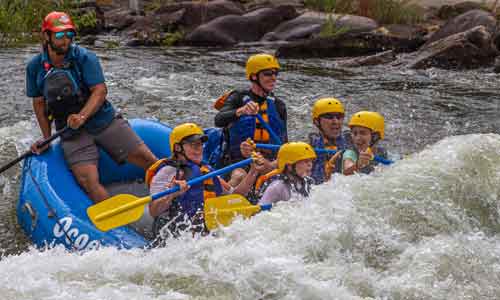 Middle Ocoee River
Ocoee River rafting is the perfect activity to go with family and friends, creating a lifetime of exhilarating memories. Life jacket, helmet and paddle are included in your trip. Beginning at the Ocoee #1 Dam, you will experience class III/IV whitewater, featuring 17 major rapids. If you are looking for miles of big waves and fun, Ocoee is here for you. No previous experience is necessary either! If you are a beginner, you can go there and practice, and improve your rafting skills!
Lower Pigeon
If you would like to take a beautiful float trip in a peaceful atmosphere, Lower Pigeon River is perfect for you! It is also great for families with children ages 3 and up, and anyone that wants a relaxing day on the river while enjoying the natural habitat of Cherokee National Forests. Use of helmets, life jackets and paddles are included. During your trip, you will enjoy Class 1 & 2 rapids that provide small splashes of fun. You can also have a chance to take a swim in the river. Overall, Lower Pigeon River offers one of the beginner-friendliest spots in the state and is a great place to start your paddling hobby!
Rafting In The Smoky Mountain
If you want two different rafting trips and an adventure on the Zipline and Ropes Challenge Course, rafting in the Smoky Mountains is a great option for you! While enjoying the beauty of the Great Smoky Mountains, trained guides will not leave you alone in order to ensure you a safe and comfortable trip. If you are an advanced rafter, Upper White Water Section with its 5 mile trip featuring 12 Class III and 3 Class IV rapids is well-suited for you! If you are a beginner, don't worry! No experience is necessary here! If you want to come here with your family, The Lower Family Float Section is here with its 6 mile trip featuring Class I and Class II rapids.
River Rat
If you are searching for a cool escape, Smoky Mountain River Rat is your East Tennessee destination. You can go to the lower section of the Little River with your family and enjoy the float, and rapids. The river is Suitable for advanced level rafters. When it comes to the upper section, it includes a scenic float with adrenaline-pumping rapids. You should come here with your adrenaline buddies! If you're not experienced with rafting, however, it's recommended that you take the necessary cautions and be careful!