1. Strawberry Park Hot Springs
Strawberry Park is a good option if you're seeking for a more relaxed atmosphere. They help you get away from the hustle and bustle of everyday life by providing rustic cottages and onsite camping. Strawberry Park Hot Springs are often regarded as the greatest hot springs in the Rockies. The 104-degree natural mineral pools are a state favorite, and they're the centerpiece of a complex that includes rustic cabins, riverside campsites, and even a train wagon for people who wish to stay and enjoy them. The facilities are nice, the bathrooms are clean and the calming experience is a must-try. Overall, Strawberry is one of the most highly-rated hot springs in the state, so don't miss it!
2. Hot Sulphur Springs
Both the town and the springs that constitute its main attraction are known as Hot Sulphur Springs. If you chance to be visiting Rocky Mountain National Park, it's a great place to unwind after a day of hiking. Hot Sulphur Springs is the oldest hot springs resort on our list, with a rich and interesting history. The Utes were the first to find it, and the hot springs has never been out of ever since then. It's proven its healing and calming quality for generations, which makes it one of the most popular hot springs in the state. You are recommended to make the most of your time in the hot springs by staying in their clean, stylish, yet modest hotel.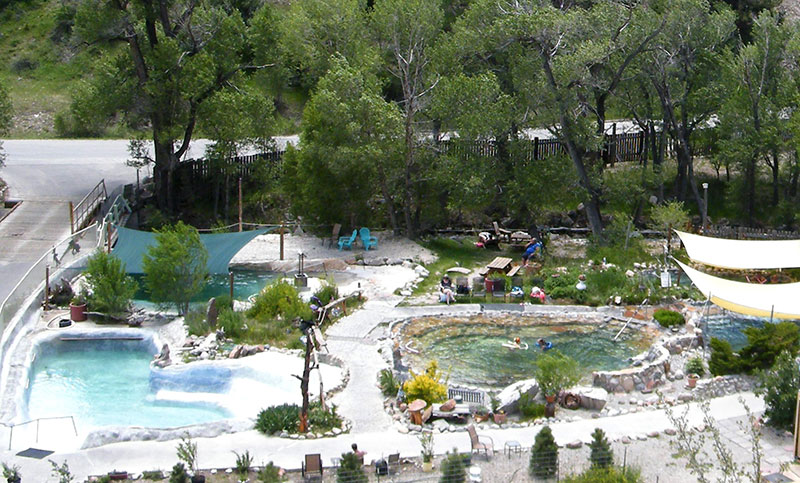 3. Cottonwood Hot Springs
Cottonwood Hot Springs, located on the banks of Cottonwood Creek, offers geothermal, mineral springs, as well as a hotel, cabins, and tent sites in the middle of the Rocky Mountains. The springs, which have been utilized as a spiritual meeting spot by the Utes for many years, are usually around 100 degrees. Staying visitors get exclusive access to the hot springs for the duration of their stay as well! Cottonwood Hot Springs helps you relax by offering an onsite spa. With completely natural hot spring pools brimming with healthy minerals, it's the perfect spot for a sedative holiday.
4. Mount Princeton Hot Springs
The odorless hot springs are the most prominent feature of this family-friendly resort in Mount Princeton. As a result, it's a great place to visit if you've never been to a hot spring before. You'll have much to do and enjoy during your time here, thanks to the numerous activities it offers. It has pools for enjoyment as well as pools for relaxation in the therapeutic mineral waters of the mountains. It has a fantastic restaurant with a menu centered on fresh ingredients, as well as yoga and fitness sessions for those interested. Choose from a variety of massages, body treatments, and private soaks, and more at the spa.
5. Glenwood Hot Springs
Glenwood Hot Springs is certainly one of the top hot springs in Colorado since it has the world's largest hot spring pool. The Yampah spring, which generates more than three million gallons of water per day at 122 degrees Fahrenheit, is its source. The downtown restaurants, shopping, and entertainment are all within walking distance of their 107-room resort. There's no reason not to spend a few days here with a complimentary poolside breakfast and a mineral treatment spa on site.