Top 5 Bike Trails in San Diego
This route has breathtaking views of the shoreline and San Diego Bay, making it an excellent bike ride. The Bayshore Bikeway begins on Silver Strand, often known as The Strand, a seven-mile-long beautiful isthmus between Coronado Island and Imperial Beach. To get to the Strand, take the Coronado Ferry (or drive over the water) and begin your riding journey at the Ferry Landing Marketplace. As you travel along the well-kept trail, take in the scenery and don't be afraid to get off your bike for a fun-filled break. Sailing, kayaking, paddleboarding, surfing, and kiteboarding are just a few of the recreational activities available.
With trails ranging from 0.5 miles to 8.4 miles, this 80-acre park has something for cyclists (and passengers!) of all levels. Because the pathways vary in surface from paved to dirt to gravel, you'll want to choose the one that's ideal for your bike. Suspension is built into Hamax products to keep your children comfortable at all times, however road tires and mountain tires ride differently depending on the terrain. The park has many garden areas, an archery range, the San Diego Air & Space Museum, and other local attractions.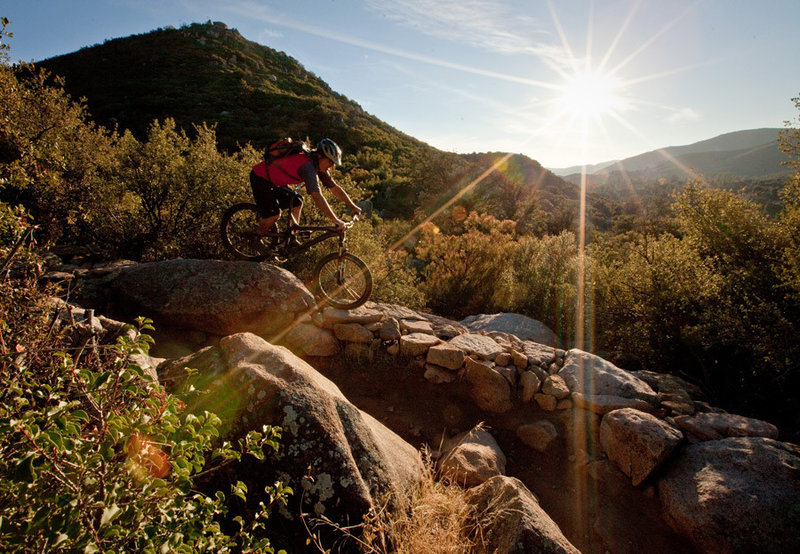 Noble Canyon, situated 40 minutes from downtown, has 18 miles of tough single track, making it San Diego's best route by far. I've noticed that biking up the paved fire road that connects the trailhead's bottom to the top is the greatest way to explore Noble Canyon. However, the journey might also be shuttled, as most of my friends do. Going up the road, in any event, removes the need to be concerned about head-on crashes and speeds up the whole ride. A few words of advice: The upper section of the ride is rather easy and smooth. The trail becomes increasingly challenging as you reach the horse gate owing to some rock fall.
Bicyclists, joggers, rollerbladers, and picnickers all go to Lake Murray. It's easy to understand why, with a gorgeous 6-mile out-and-back trail. Those on the water will give lots of entertainment for your children as they fish, boat, and splash around in the water. When you need to take a break from all that biking, stop at one of the picnic sites. Dogs are allowed in the park, but they must be kept on a leash at all times.
Cyclists can find plenty of space to bike through the suburbs on Lake Poway. The single-track circular course is appropriate for both experienced and inexperienced bikers. Athletes frequently utilize this trail to help train for the annual Tour de Poway while also enjoying one of San Diego's smoother streets. The lake's route is packed with lovely blooms and spectacular sights that make the effort of biking worthwhile. You may even bring a close buddy with you.